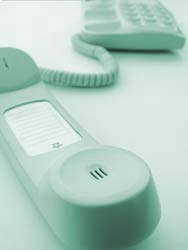 Counselling by telephone can be provided either as a stand alone service or in conjunction with face to face counselling.
Telephone counselling has been found to be beneficial for those people who are unable to attend face to face sessions because of:
Ill health

Difficulty travelling to face to face sessions

The need to travel for work or due to other commitments

When additional support would be beneficial for a period of time, or immediately prior to or after a significant event, e.g. addressing a problem such as bullying behaviour with the person concerned.
The arrangements (start time and duration of the session) for telephone counselling sessions are always agreed in advance. At the designated time you simply ring the telephone number provided.
If you are to benefit from telephone counselling it is essential that you are able to set aside a time when you will not be interrupted and when you can speak in confidence.